Hawaii Food Favorites & Lomilomi Salmon Recipe
Waikiki Luau
Honolulu's food scene is steadily growing and quickly becoming a mecca for many foodies. From resort fine dining to decades old drive-ins, there is a lot to explore when deciding where to get the 'ono grinds. For visitors, the plate lunch is a must try when visiting the islands, one plate can feel limiting when you want to try it all! That's why we favor a luau buffet where there is a wide variety of options to choose from.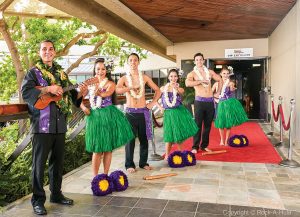 At  Rock-A-Hula guests can dine under the stars while enjoying live Hawaiian music and hula lesson taught by cast members of the largest show in Waikiki. The food hits all the island favorites of Whole Suckling Pig, USDA Roast Beef, Teriyaki Glazed Chicken, Macadamia Crusted Fish, Limu Tofu Poke, Vegetarian Fried rice and more! After you've sampled all your favorites, burn some calories by cast members of the largest show in Waikiki or get a taste of the chocolate dobash cake, coconut haupia and more. While it's hard to tell which dish is the favorite among our guests, one thing is certain – many go back for seconds to try the 'ono selections, including the classic island favorite lomilomi salmon.
The Hawaiian word "lomilomi" means to massage, which perfectly describes how this well-known side dish from the 1700s still remains popular. The ingredients are mixed, or massaged, together gently by hand and served cold. Rock-A-Hula spills it's secrets on how you can make lomilomi salmon at home. You can also give it a try by dining at our upscale Luau Buffet & Show in the heart of Waikiki.

Lomilomi Salmon
Ingredients:
12 oz. salmon fillet

Hawaiian sea salt

2 large diced tomatoes

½ cup large sweet diced onion

4 green onions

1 tsp. lemon juice

1 pinch of sugar

½ tsp. cayenne pepper
Directions:
Wash and pat dry the salmon. Rub salt generously and evenly over the fish.

Wrap the fish in plastic wrap and place on a plate to prevent liquids from dripping or spilling.

Chill the salmon by placing it in the fridge for 24 hours or overnight.

Remove from the fridge and unwrap the salmon.

Wash off the remaining salt.

Remove the skin from the salmon and dice the salmon into cubes or bite size pieces. Add it to a large mixing bowl.

Dice up the tomatoes, green onions, and sweet onions then add it to the mixing bowl.

Add in the lemon juice, sugar, and cayenne pepper. Mix everything together, lomilomi it gently by hand and serve cold.