THEATER, LOUNGE, PAVILION RENTALS
Consider hosting your next event in one of our premier venue spaces walking distance from all major hotels in Waikiki. Our 750-seat Royal Hawaiian Theater (the biggest and only one in Waikiki), private lounges and outdoor pavilions are optimal for hospitality receptions, award ceremonies, seminars, briefing, concerts, performances and more.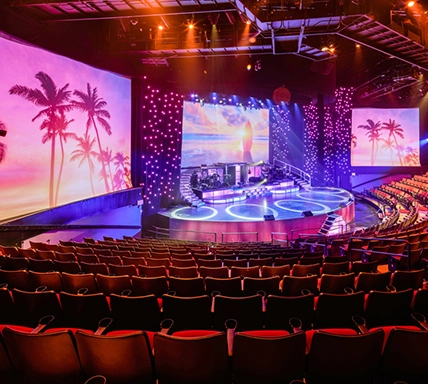 Royal Hawaiian Theater Rental
Maximum 750 guests. Daily, 4 hours (before 4:00PM)
Planning an awards ceremony, seminar, briefing, concert, performance, hospitality reception or another large-scale event? With 750 seats, state-of-the-art audiovisual and lighting systems, a giant 40 x 29-inch screen, and the collective support of a team of dedicated technicians, our Royal Hawaiian Theater is the recommended venue of choice for a seamless, stress-free event. Transportation and premium bar add-ons are available for an added fee.
Maximum 500 Persons for 2 Pavilions. Daily, 2 Hours (before 4:00PM)
Looking for a centrally located outdoor space for your next event? Located at the Royal Hawaiian Center in the heart of Waikiki, our outdoor Hawaiian pavilion rentals include tables and chairs for up to 500 guests (250 guests per pavilion). Orchid lei greeting, dining, bar and transportation add-ons are available for an added fee.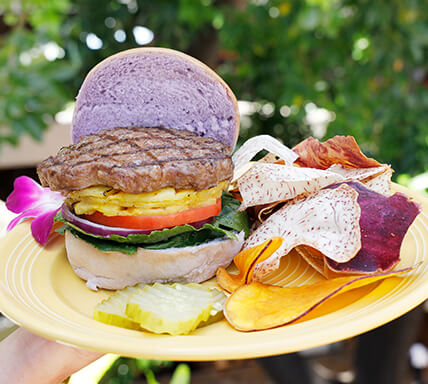 Hula Burger Buffet Lunch Event
Minimum 80 - Maximum 1,000 Persons. Daily, 2 Hours (before 4:00PM)
Give your guests a proper Oahu welcome with our Hula Burger Buffet Lunch event, perfect for an arrival briefing lunch! Set in one of our outdoor pavilions, this experience is an ideal introduction to a relaxing Hawaii getaway, whether for business or recreation. The buffet menu includes a gourmet burger bar, homemade brownies, coffee and tea station, and vegan options upon request. Transportation, orchid lei greeting, hula and ukulele performance add-ons are available for an added fee.
Private Party at Music Lounge
Nightly, Dark Fridays, 2 ½ Hours (8:30PM – 11:00PM)
Whether you're planning an intimate cocktail party or an after-dinner hospitality event, our private music lounge centrally located in the heart of Waikiki is the perfect stylish setting for an evening of pure enjoyment. From friendly atmosphere, delightful live music, premium cocktails and tasty hor d'oeuvres, it's sure to be a fun and memorable time for your all guests!
Music Lounge Cocktail Party (Minimum 100 – Maximum 200)
Music Lounge Premier Cocktail Party (Minimum 100 – Maximum 600)