Top 10 Things To Do on Oahu
Oahu definitely suits its nickname as "The Gathering Place." Home to more than 65% of the Aloha State's total population, Oahu brings together a melting pot of cultures and traditions. In addition, this island not only has the popular tourist attractions of Honolulu and Waikiki. But it also offers scenic nature escapes, historical battle sites and idyllic old Hawaii towns where kama'aina and visitors can sightsee. With all the options that Hawaii's third largest island has to offer, let's explore our Top 10 Things To Do on Oahu!
1. Rock-A-Hula Luau & Show
Known as Waikiki's largest Hawaiian show, Rock-A-Hula offers a one of a kind experience through music and dance. Be whisked away on a "Hawaiian Journey" from the 1920s to today through powerful performances by our performing artists, hula, Tahitian, fire knife dancing and amazing musicians, all in the 750-seat Royal Hawaiian Theater.
Choose from four ticket packages, from the show only to gourmet dinner and show experiences. For the ultimate experience, reserve seats to our VIP Waikiki Luau Buffet & Show.
2. North Shore Beach and Haleiwa Town
When booking Royal Star's 9-hour Grand Circle Island & Haleiwa Town Tour, guests will marvel as they pass by the sandy beaches of the North Shore. Surf lovers will also enjoy seeing the Seven Mile Miracle – a stretch of beaches that include Sunset Beach, Banzai Pipeline, Waimea Bay and other iconic surfing spots. After driving along these beaches, guests can explore the laid-back surfing town of Haleiwa where they can shop and try the mouth-watering garlic shrimp plate, refreshing shave ice, tropical fruit stands and other local flavors.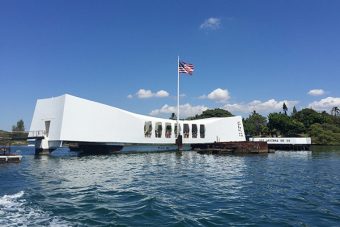 3. Pearl Harbor National Memorial
Designated as a national historic landmark in 1964, Pearl Harbor is the most visited attraction on Oahu. Visitors can browse the museums at the Pearl Harbor Visitor Center and take a shuttle boat ride to the final resting place of the USS Arizona Memorial. Pearl Harbor is also home to the Battleship Missouri Memorial, which played a key role in ending World War II.
Royal Star offers two deluxe bus tours to Pearl Harbor. The 5-hour Pearl Harbor Experience includes driving through the National Memorial Cemetery of the Pacific and downtown Honolulu. Guests can also choose the 8-hour  for a complete Pearl Harbor historical experience.

4. Nuuanu Pali Lookout
The lush Pali Lookout offers breathtaking views of Oahu's windward side and the Koolau Range. This Lookout was the site of the historic Battle of Nuuanu that King Kamehameha I won in 1795, enabling him to unite Oahu under his rule.
Our Grand Circle Island & Haleiwa Town Tour offers a stop at this location where guests can experience Pali Lookout's panoramic views, verdant rainforests and howling winds! Guests can also enjoy a poi malasada treat and bottled water that are included in this all-day adventure.
5. Music Lounge
If you're looking for live music and tasty cocktails, this place is for you! Located in the heart of Waikiki, the Music Lounge has $5 drink specials and a wide variety of drinks, including cocktails, champagne, premium liquors, beer, wine and more. Guests can also relax to live music and enjoy tasty treats from Pupu Platters to Paradise Bowls and more.
The Cocktail and Premier Music Lounge Package will make for an unforgettable night. To reserve your tickets online, click here or call 808-629-7458.
6. Iolani Palace
Registered as a National Historic Landmark since 1962, Iolani Palace is the only royal palace in the United States. Built in 1882, it served as the residence of Hawaii's last reigning monarchs, King Kalakaua and and his sister Queen Lili'uokalani. After the overthrow of the monarchy in 1893, Iolani Palace served as the Capitol for almost 80 years and later restored in the 1970s.
Royal Star's Pearl Harbor Tours and Grand Circle Island & Haleiwa Town Tour will drive through downtown Honolulu with views of Iolani Palace, King Kamehameha Statue, Kawaiahao Church and other historic Hawaii landmarks.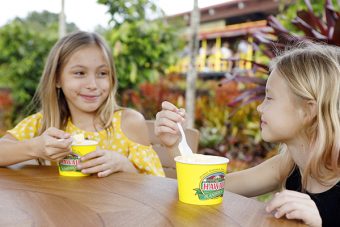 7. Dole Pineapple Plantation
The Dole Plantation originally operated as a fruit stand starting in 1950. Today, this historic site welcomes kama'aina and visitors with express train and garden tours, a pineapple garden maze and local snacks and refreshments!
Located in Wahiawa on central Oahu, the Dole Plantation is the perfect stop in our Grand Circle Island & Haleiwa Town Tour. Here, guests can have the complete pineapple experience and even try the world-famous Dole Whip!
8. Star of Honolulu Sunset Dinner Cruise
Operated by Hawaii's largest sunset dinner ship, the Star of Honolulu, this ocean adventure is the perfect way to enjoy panoramic ocean views of the sunset and Honolulu city lights! Guests will savor exquisite cuisine prepared by our master chefs, sip on premium cocktails and enjoy live Hawaiian entertainment.
With more than 65 years of experience, our friends at Star of Honolulu will make every moment unforgettable – whether you're looking for a romantic night on your Hawaiian vacation or a festive experience for weddings, anniversaries, birthdays, family reunions and corporate events.
9. Byodo-In Temple
Located in Kahaluu, the Byodo-In Temple was established in 1968 to commemorate the 100th year anniversary of the first Japanese immigrants to Hawaii. With the Koolau Range as its scenic backdrop, the temple grounds include a sacred bell house, koi ponds, lush gardens and meditation areas. If this iconic site looks familiar, it's because it's a smaller replica of the 950-year-old-plus Byodo-In Temple in Uji, Japan. Plus, this temple on Oahu's windward side has been featured on T.V. shows, including Hawaii Five-O, Lost and Magnum, P.I.
The Byodo-In Temple is one of several stops in our fun-filled Grand Circle Island & Haleiwa Town Tour. Other stops include Hanauma Bay, Halona Blowhole, Nuuanu Pali Lookout, Tropical Farms with macadamia nut and coffee sampling, Haleiwa and Dole Plantation.
10. Diamond Head Crater Hike
Hawaii's most recognized landmark can be enjoyed not only from afar, but also uphill! The 0.8 mile hike to the Diamond Head summit offers breathtaking coastline views, stretching from Koko Head and Honolulu all the way to Waianae on the west side. Plus, you may get lucky and spot a rainbow across the sky or passing humpback whales during the winter months.
If this hike excites you, visit our website or call us at 808-983-7792 to schedule a customized private group itinerary to Diamond Head or any other spots you've read in our Top 10 Things To Do on Oahu. We hope to see you soon and share with you the spirit of Aloha!